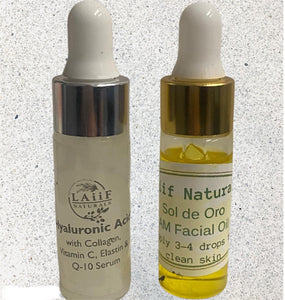 Calendula Oil and Hyaluronic Acid with Vitamin C & Collagen Serum 
Gift yourself or your loved ones this travel size Golden Duo for your skin 
Includes
Natural travel pouch

Travel size 5ml AM facial oil

Travel size 5ml hyaluronic acid, vitamin c, collagen, elastin serum 
Benefits
AM morning oil can be used alone or combined with the Hyaluronic Acid serum to add moisture, anti-aging effects to your skincare routine. 

Hyaluronic acid

Stimulates Skin Cell Regeneration
Lipid Barrier Enhancement. Our skin's main function is to protect our body.
Increased Resilience.
Tighter Skin Tone.
Smoother Texture.
Less Visible Fine Lines and Wrinkles.
Vitamin C
Antioxidant, it protects skin cells from damaging free radicals caused by UV exposure.
Inhibits melanin production in the skin, which helps to lighten hyperpigmentation and brown spots, even out skin tone, and enhance skin radiance.
Collagen
 Stimulate production of this structural protein, which is responsible for youthful, supple skin, and fight back against sagging and fine lines.
Plump and firm skin, both erasing and preventing wrinkles from developing
 AM Facial Oil is a concentrated blend of calendula and chamomile infused organic Rosehip and organic Jojoba oils.
 Benefits
 Rosehip Oil
It hydrates. 
It moisturizes.
It helps exfoliate and helps brightens skin.
It helps boost collagen formation.
It helps reduce inflammation. 
It helps protect against sun damage. 
It helps reduce hyperpigmentation.
Jojoba Oil
Non greasy.
Deeply hydrating.
Long lasting moisturizer.
Anti-aging.
Non-Acnegenic. 
Gentle & Non-Allergenic.
Full of nutrients like Vitamin E and B, as well as antioxidants and minerals like chromium, copper, and zinc, which all nourish and protect skin.
Calendula Flower
Anti-inflammatory 
Anti-aging
Heals wounds
Reduces scarring
Hydrates and nourishes dry skin
Antibacterial & anti microbial 
Chamomile flower
anti-inflammatory and antioxidant properties

that can relieve skin irritations such as eczema and rosacea.

Heals wounds
anti-aging 
Prevent breakouts