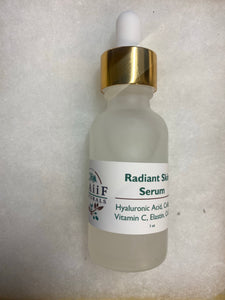 Our special blend of Hyaluronic acid, Vitamin C, Collagen and CoQ10 is the perfect combination.  No matter what your skin type is, it is essential to retain the natural moisture of the skin, and hyaluronic acid is the best skin care treatment to keep your skin feel moisturized, supple, and radiant all the time. It also helps in improving skin texture and combats dryness and patchy skin.
Hyaluronic acid helps reduce and prevent dark spots and pigmentation. It prevents your skin from damage caused by the sun and other external aggressors such as dust, pollution and more by acting as a protective barrier to your skin.
Legal Disclaimer :
Statements regarding dietary supplements/products have not been evaluated by the FDA and are not intended to diagnose, treat, cure, or prevent any disease or health condition.