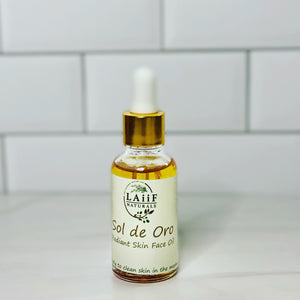 Discover this all natural and organic face oil that instantly moisturizes and restores healthy, smooth, and glowing skin. 1 fl. Oz.
This amazing blend of Evening Primrose,Jojoba & Rosehip oils are the best oils for your skin. Full of antioxidants. Sol de Oro replenishes and hydrates to dramatically to improve your complexion.
Use after cleansing skin with Good as Gold facial foam cleanser. Massage 2-3 drops onto face and neck from center outwards. May be used as make up remover. May be mixed with hyaluronic acid, vitamin c serum 2-3 drops of each, maybe be mixed with current foundation 2-3 drops.
Ingredients:
100% natural chamomile, calendula flowers, organic evening primrose oil, organic jojoba oil, organic rosehip oil & essential oils