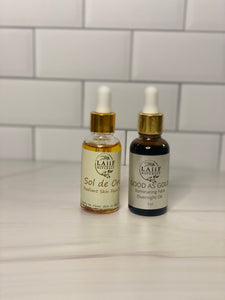 One 1oz Sol de Oro AM facial oil and one 1oz Good as Gold PM facial oil
Sol de Oro AM oil
Discover this all natural and organic face oil that instantly moisturizes and restores healthy, smooth, and glowing skin. Jojoba oil is the best oil for skin. Full of essential oils and antioxidants, combined with Rosehip oil.  Sol de Oro replenishes and hydrates to dramatically improve complexion.
Use AM  after cleansing skin with Good as Gold facial foam cleanser.  Massage 2-3 drops onto face and neck from center outwards. May be used as make up remover. May be mixed with current face serum 2-3 drops, maybe be mixed with current foundation 2-3 drops
 Ingredients: 
100% natural chamomile, calendula flowers, organic jojoba oil, organic rosehip oil & essential oils
Good as Gold PM oil
Our blend of organic rosehip oil & pure cold pressed tamanu oil infused with Calendula pedals will moisturize, restore, soothe and heal your skin. Filled with essential fatty acids and vitamins.  Can be applied from head to toe.  
Its fluid, non-greasy fast absorbing texture leaves skin feeling soft and nourished.
Apply topically daily, preferably at bedtime on clean skin. After patch test can be used on any skin conditions. Keep in cool dark place.
Can be mixed into your own skin and body care products to maximize benefits regularly.
* * People with a tree nut allergy should avoid Tamanu oil, as the oil is pressed from the nut of the Calophyllum inophyllum tree.
Ingredients:
tamanu oil, calendula flowers, organic rosehip oil, organic jojoba oil, saffron oil, rose essential oil, citrus essential oils