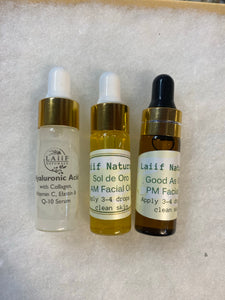 Gift yourself or loved ones this glowing skin travel size bundle.
Includes
Natural travel pouch

Travel size AM & PM facial oils (one of each) 5ml each

Travel size hyaluronic acid, vitamin c, collagen, elastin serum 5ml
Benefits
AM morning oil can be used alone or combined with the Hyaluronic Acid serum to add moisture, for radiant effects to your skincare routine. 

Hyaluronic acid
Lipid Barrier Enhancement. Our skin's main function is to protect our body.
Increased Resilience.
Tighter Skin Tone.
Smoother Texture.
Vitamin C
Antioxidant, it protects skin cells from damaging free radicals caused by UV exposure.
Inhibits melanin production in the skin, which helps to lighten hyperpigmentation and brown spots, even out skin tone, and enhance skin radiance.
Collagen
 Stimulate production of this structural protein, which is responsible for youthful, supple skin, and fight back against sagging and fine lines.
Plump and firm skin, both erasing and preventing lines from developing
DISCLAIMER
Products contain herbs and essential oils, it you are allergic to these types of items please don't use the products, not liable or responsible for illness or allergic reaction. Please read instruction and always do the 24 hour skin test as stated.