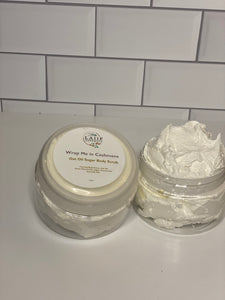 Say goodbye to dull and dry skin with this very gentle exfoliating body scrub. It contains fine sugar to exfoliate while moisturizing with our unique combination of creamy shea butter, oat oil, sweet almond oil and vitamin E.
We have formulated this scrub to be a creamy consistency without messy excess oil floating to the top.
No need to stir or shake prior to use! Simply massage into wet skin after using your usual soap and rinse. Your skin will feel like silk. Follow with our after shower body oil/ massage oil.
DISCLAIMER
Products contain herbs and essential oils, it you are allergic to these types of items please don't use the products, not liable or responsible for illness or allergic reaction. Please read instruction and always do the 24 hour skin test as stated.