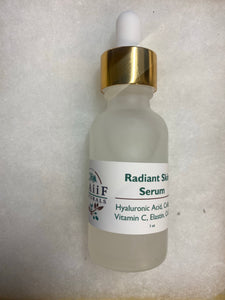 Our special blend of Hyaluronic acid, Vitamin C, Collagen and CoQ10 is the perfect combination.  No matter what your skin type is, it is essential to retain the natural moisture of the skin, and hyaluronic acid is the best skin care treatment to keep your skin feel moisturised, supple and radiant all the time. It also helps in improving skin texture and combats dryness and patchy skin.
Hyaluronic acid helps reduce and prevent dark spots and pigmentation. It prevents your skin from damage caused by the sun and other external aggressors such as dust, pollution and more by acting as a protective barrier to your skin.

Hyaluronic acid
Stimulates Skin Cell Regeneration
Lipid Barrier Enhancement. Our skin's main function is to protect our body
Increased Resilience
Smoother Texture
Less Visible Fine Lines and Wrinkles
Vitamin C
Antioxidant, it protects skin cells from damaging free radicals caused by UV exposure.
Inhibits melanin production in the skin, which helps to lighten hyperpigmentation and brown spots, even out skin tone, and enhance skin radiance.
Collagen
 Stimulate production of this structural protein, which is responsible for youthful, supple skin, and fight back against sagging and fine lines.
Plump and firm skin, both erasing and preventing wrinkles from developing