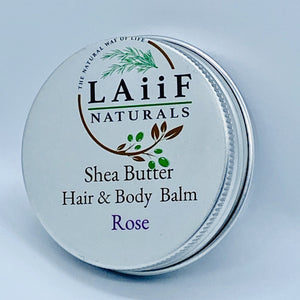 Head to toe moisturizer. Perfect blend of whipped shea butter & natural oils to soothe & hydrate dry skin. Our balm is filled with natural ingredients that will revive your skin & hair.  Scented with organic essential oil. 
A nourishing whipped shea butter that instantly melts into your skin without a heavy feel.
Suitable for most skin types. Great for dry skin, sensitive skin and mature skin.
Ingredient benefits:
Cocoa butter,
Vitamin C
Rose Essential oil - Besides its soothing scent, Rose essential oil hydrates dry skin, clears acne, reduces signs of aging. Can help with eczema & rosacea. 
Shea Butter - Fast absorbing with anti-inflammatory & healing properties. Addresses problems such as dark spots, blemishes, dryness, stretch marks & wrinkles without clogging pores. Safe on color treated hair.
Jojoba oil - Deeply hydrating & fast absorbing without clogging pores.  Is anti-microbial with healing benefits. Promotes collagen synthesis for anti aging benefits & hair thickness.  Full of nutrients like vitamins E, B, zinc & chromium. 
Sweet almond oil - Hypoallergenic oil does not clog pores. Reduces the appearance of  scars & stretch marks.  It improves complexion & even out skin tones. Helps with sun damage. Almond oil contains retinol, vitamin E, calcium, magnesium & vitamin K.
Unrefined coconut oil - Reduces inflammation & heals wounds.  Contains antimicrobial properties that can help treat acne. Fights skin aging, minimizes hair frizz & adds shine to hair.